Alert Ready Test Alert
On November 25, 2020, many Canadians will receive an emergency alert as Alert Ready is performing a routine test of their system.
---
On November 25, 2020, many Canadians will receive an emergency alert as Alert Ready is performing a routine test of their system. Regular testing ensures that the system is working properly before an event actually occurs and that everyone who is supposed to get an alert actually does. An emergency alert is only as effective as the number of people it can reach.
Testing of emergency alert systems is essential as they validate operational readiness and uncover areas that may need improvement. These tests also educate Canadians on what the alerts look and sound like before an emergency actually occurs.
While some people may think of emergency alerts as annoyances because they do not necessarily occur at convenient times, they have been credited with saving lives.
Ensuring the system works properly through regular testing is vital to ensure that they can continue to be available and will work properly when they are needed.
Alertable provides more ways to receive alerts than any other alerting company in Canada. This includes the following:
Downloadable app;

Social Media including Facebook and Twitter;

Instant Messaging including FaceBook Messenger, Slack and Microsoft Teams;

SMS Text;

Email;

Phone;

Smart Speakers (Amazon and Google); and

Other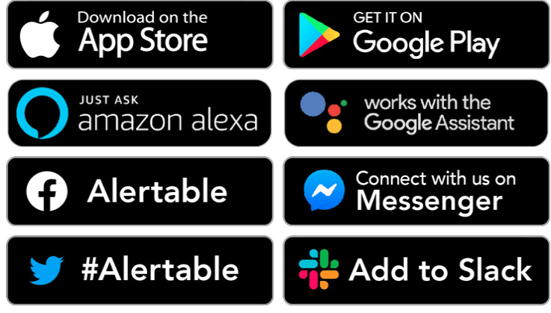 By providing choice to Canadians the hope is that more people will choose to receive alerts and will be more likely to be prepared to take appropriate action when an event occurs. To begin receiving alerts simply choose the avenue that is best for you. Alerts through SMS text, phone and email are only available if your municipality has signed up. Even if your municipality has not signed up, all alerts through Alert Ready and any severe weather alerts will still come through. This means that you will still receive a test alert on November 25 even if you are not signed up specifically through Alertable channels.

This year PEASI is asking for your help.
We want you to send us screenshots of what your alert looks like, videos of the alert and the reaction of those around you during the test. We want the public's feedback so that we can continue to provide an effective solution to meet the alerting challenges and needs that exist within Canada.
You can send your pictures and videos to info@peasi.com. You can also tag us on social media by using the hashtag #testalert.
Another way to help us if you are an Alertable user is to fill out a survey about your experience. Notifications will be sent out when it is available through social media, as well as through the Alertable app. The survey will become available at www.peasi.com.
We appreciate your help and your feedback that allows us to continue to improve our system.
To read more about what to expect during a test of the Alert Ready system click here
To read more about why testing is important click here
What are other tips we could talk about? Leave a comment below and let us know.
To read our Disaster Series click on the following links:
To sign up for Alertable or to learn more visit https://alertable.ca