EMERGENCIES & DAY-TO-DAY
External & internal communications for government & business
External and internal communications for emergencies and day-to-day are made fast and easy with one tool that does it all.
Notify everyone who should know or only those that need to know. The public, your whole company, teams, individuals and key stakeholders. The choice is yours.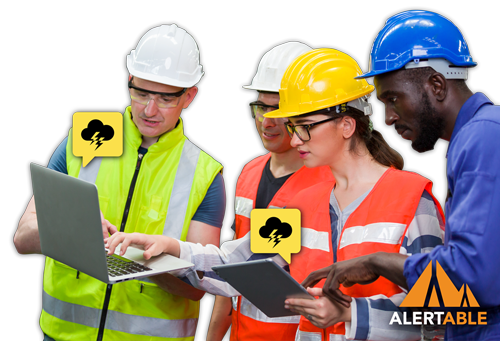 FOR WORKPLACE SAFETY MANAGERS
Emergency notification system for business
How to keep workplaces safe when more are now working from home
It was easier to grab people's attention when everyone was co-located in the office or together on the job site.
Learn how workplaces are successfully navigating the new remote work dynamic with our technology.
BENEFITS
Employee notification software made simple
If you're struggling with remote work, if you've tried every trick to engage your incident response teams online, if you're unsure how to do your next safety drill with a remote workforce, if you're worried about headcounts when many are now working from home, then our technology is for you.
Keep connected with your team wherever they may be working. Plan and respond to emergencies as if you were together in the same room.
Provide a home for your incident response teams to collaborate and find all the information, forms and tools they need to complete their job.
Your employee's home is now their workplace. Many of the same precautions and responses they would take in the office they take at home.
Report better headcount metrics using check-in technology to accurately account for more people even if they are physically assembled.
FOR LOCAL EMERGENCY MANAGERS
Mass notification system for government
How to go door-to-door in a flash in an emergency
Going door-to-door is tried and true but slow and unpredictable. Learn how emergency officials are improving upon that practice with our technology.
BENEFITS
Emergency alert system that's fast and easy
If you need to reach more people in your community when you sound the alarm, if going door-to-door works but is not fast enough, if you're always up against time when emergencies strike, if you often forget to update your communications, then our technology can help.
18+ different ways for people to choose from to be notified. More choice increases uptake and more chance that your message will be heard.
Similar to going door-to-door, notify people directly on their telephone, mobile phone, tablet, computer, home smart devices, even TV and radio.
3 simple steps and it's sent
3 simple steps to send your alerts make it fast and easy to get your message out while you can attend to other matters.
Powerful scheduling facility allows you to schedule updates and cancellations so that you keep people informed as the event unfolds.
FOR COMMUNICATIONS TEAMS
Day-to-day external and internal communications
Need a better way to communicate with your workforce, stakeholders, customers and public day-to-day?
You've got a powerful communications tool at your fingertips in our technology for emergencies. Why not use it?
Learn how communications teams get full value by making use of our technology day-to-day.
BENEFITS
External business communications and internal communications tool in one
If you use many systems to communicate inside and out, if you often forget to send or post on one of them because there are so many to keep track of, if you're frustrated by how long it takes to send by email, text message, social media and website, then our technology can help.
The same tool used for notifying the masses externally can be used internally so that you only notify groups and individuals that you want.
Don't miss posting on social media or sending to an email list. Use our one-click send technology to send everywhere at once.
Jumping onto email, then social media, then your website takes valuable time away. Jump onto one tool and let our technology do the rest.
Don't let your mass notification software sit idle when not being used for emergencies. Use day-to-day too and keep people engaged.
One tool for all your communication needs