What does Civil Emergency Alert Mean?
Emergency alerts are issued by public officials and are meant to warn the public of current or imminent hazards to life and/or property.
---
Emergency alerts are issued by designated public officials at a national, provincial/territorial, or municipal level and are meant to warn the public of current or imminent hazards to life and/or property. So far in the year 2020, 173 alerts have been issued through the national Alert Ready System and 26 of these have been for Civil Emergencies.
What is a Civil Emergency?
The definition of a civil emergency can vary slightly depending on where you are from. According to the Alert Ready website "a civil emergency occurs when humans cause a disruption of services or require varying levels of support, law enforcement or attention."
Examples of a civil emergency include:
Hazardous materials release;

Dam failure;

Terrorist threat;

Landslides;

Flooding; and

Sharing information about the current COVID-19 pandemic.
The following image is an example of a civil emergency alert issued by the Province of Saskatchewan: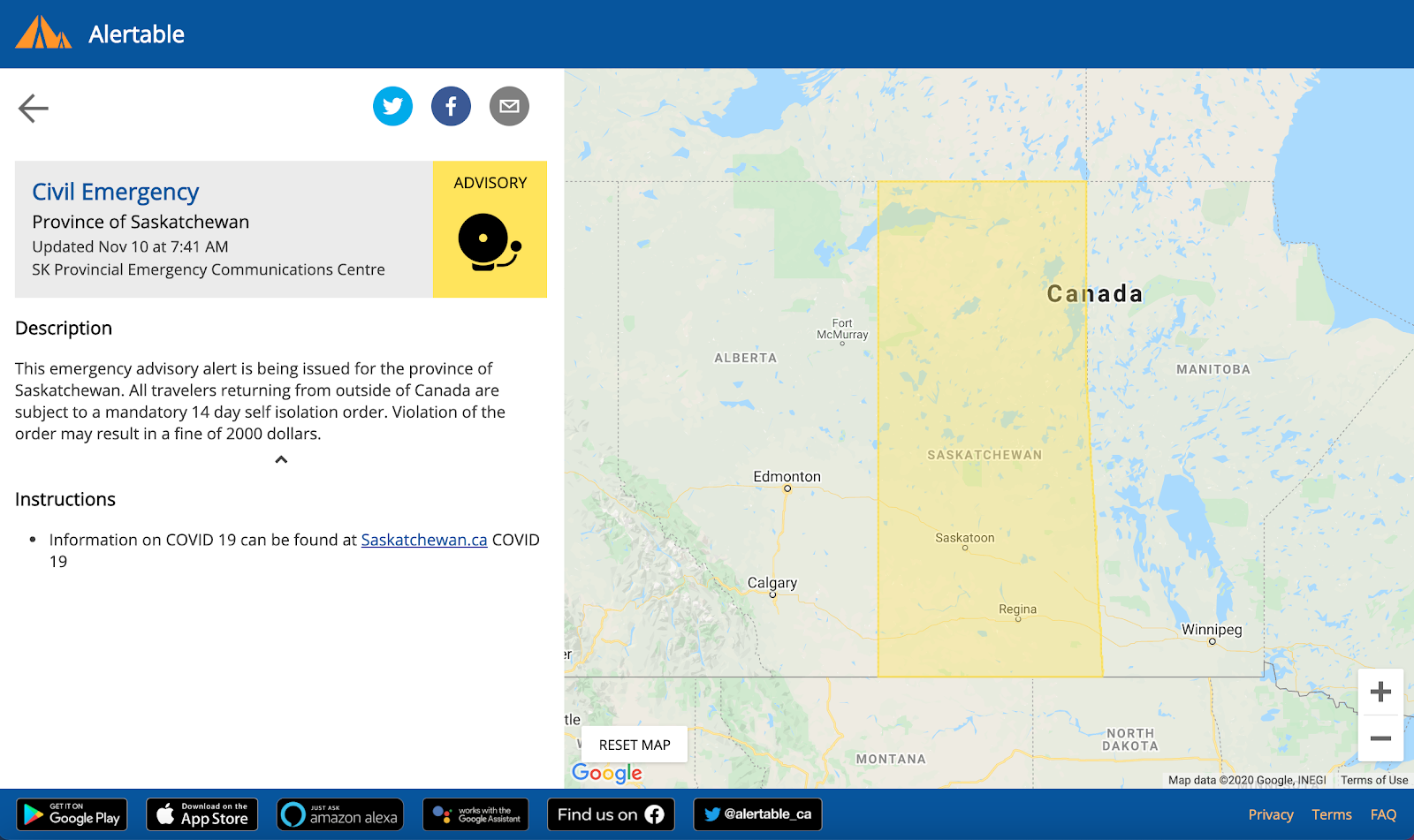 Civil emergency alerts are meant to warn you about an emergency that is about to happen, or that is currently happening, and give you instructions on how to stay safe. These are only sent out after a thorough evaluation of the severity of the situation and when it is deemed essential for public safety.
While some people think that emergency alerts are an annoyance, they have been credited with saving lives. When you get an alert stop, take the time to understand the information provided, and follow its instructions.
If you get an alert you should:
Read/listen to the alert

Follow the directions given

Do not try to go see the area affected

Let loved ones know you are safe if you are in the danger zone
A civil emergency alert may be sent even if the details are not all given to the public on why. For an example of this click here . Even when this is the case, complying with the instructions given is essential to ensure the safety of those in the area.
To receive emergency alerts from Alert Ready on your phone it needs to be powered on and be connected to an LTE network. If your phone is in silent mode a notification will be displayed on your screen but your phone will not make a sound to notify you of an incoming alert.
Alertable is a good alternative to ensure that you are more likely to receive emergency alerts when they occur. With more than 15 different ways to receive alerts the chance of you getting the message increases. Examples of how to receive alerts include a mobile app (which can override silent mode on your phone for critical alerts), text, email, phone, home smart speakers, social media, and instant messaging platforms such as Slack, Facebook Messenger and Microsoft Teams.
To read more about Alert Ready and the types of alerts they send click here
What are other tips we could talk about? Leave a comment below and let us know.
Read more on our Disaster Series:
To sign up for Alertable or to learn more visit https://alertable.ca