The Different Uses of Alertable: A Case Study
Alertable is a way to save time and money by sending emergency, community and workplace notices and alerts. Send notifications everywhere at once.
---
Alertable is a way to save time and money sending emergency, community and workplace notices and alerts. It allows you to send notifications simultaneously to landline phones, smartphones, computers, tablets, TV, radio, home smart speakers, roadway signage, digital display boards, community sirens and more.
While Alertable is often used for emergency alerts, it is a tool that can be utilized in many ways to keep residents of a community both safe and informed.
The Town of Yarmouth, Nova Scotia, is a great example of the variety of information that can be shared over Alertable. They have used Alertable to remind residents of a public event, road closures, winter parking restrictions, transit issues and more. The following image shows how they have chosen to utilize Alertable in their community within the Alertable app: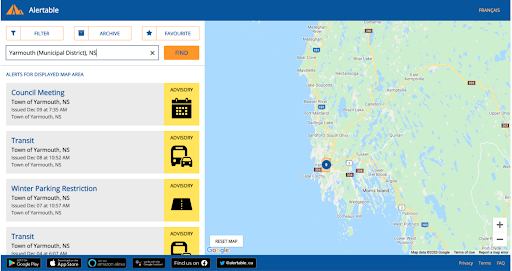 By clicking on each alert you are able to access information about each one. It provides you with more detailed information and includes a map of the affected area. The following images provide a closer look at the variety of different alerts issued by the Town of Yarmouth:
A Public Event (Christmas Market):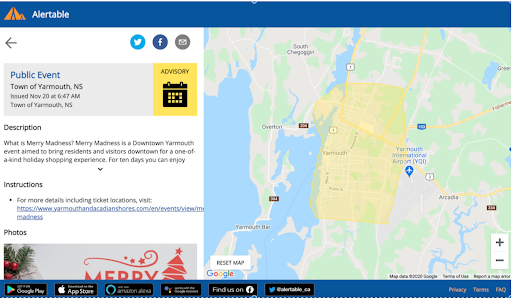 A Transit Event (Monthly bus pass availability):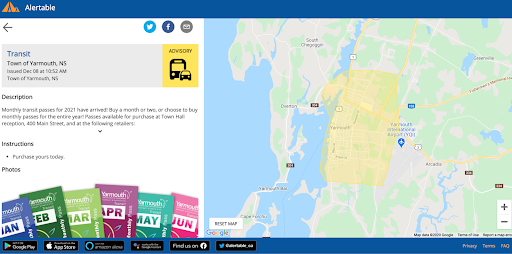 A Town Council Meeting: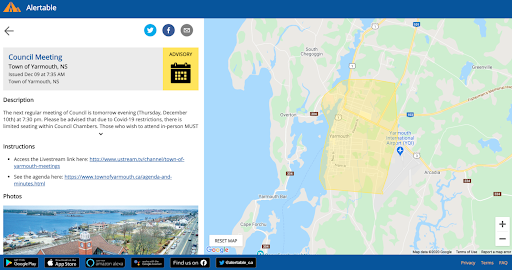 Road Closures: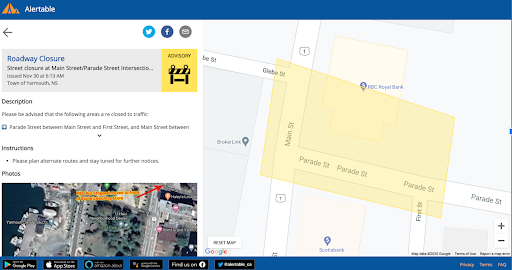 Winter Parking Restrictions: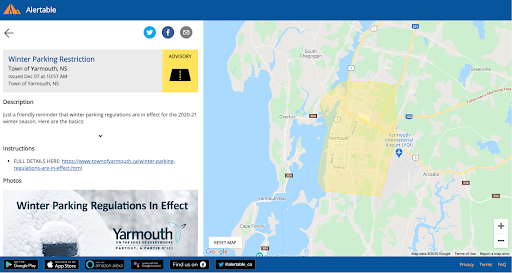 A Project Update: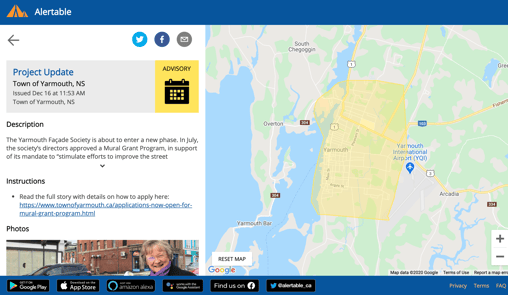 and a Water Supply issue:
While an emergency alert has not been posted, Alertable is a vital part of the emergency program in Yarmouth.
The Alertable app allows you to customize your alerts more than any other Alertable channel.
Alertable gives you options on what alerts you receive, when you receive them, and where you receive them for. Because all alerts may not be applicable to all residents, and all residents may not be interested in receiving all the alerts sent, Alertable gives the user the option to choose what alerts you receive. For example, if you are not interested in road conditions or heat warnings you have the option to filter those alerts out. Remember that you do not have the option to filter critical alerts.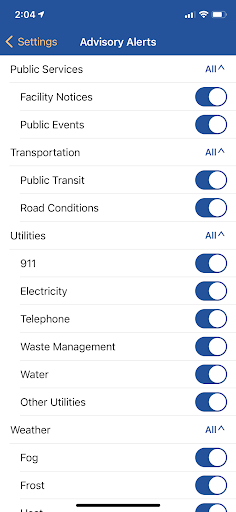 Other features include an override silent mode and a follow me feature. Override silent mode ensures that all critical alerts will still use sound on your phone even when it is on silent. The follow me feature allows you to receive alerts from wherever you are in Canada and you are also able to choose what locations you receive alerts for. Do you have family in another area or own a rental or vacation property? Alertable allows you to choose multiple locations so that you stay aware of what is happening in whatever area you choose within Canada.
If your community is accessing Alertable it is a great option to help you stay safe and informed. If your community is not, a variety of alerts (including severe weather alerts) will still come through.
To see alerts in your area click here
For information on the National Public Alerting System click here
What are other tips we could talk about? Leave a comment below and let us know.
Read our Disaster Series:
To sign up for Alertable or to learn more visit https://alertable.ca

.