Emergency Preparedness Week 2022
Can you protect yourself and your family during a disaster? Are you or your community participating in Emergency Preparedness Week 2022?
---
Can you protect yourself and your family during a disaster? Are you or your community participating in Emergency Preparedness Week? Would you like to but you aren't sure how? Do you know what Emergency Preparedness Week is?
What is Emergency Preparedness Week?
Emergency Preparedness Week (EPW) is a national event held during the first week of May. During this time all levels of government, emergency management organizations, Indigenous organizations, non-governmental organizations, and the private sector work together and support activities at the local level to help increase individual, family and community preparedness.
This year, EPW is May 1st-7th. The theme is Emergency Preparedness: Be Ready for Anything. Canadians are invited to take action to increase their preparedness levels and their ability to respond to disasters and emergencies.

How do you prepare for an emergency?
While all levels of government are working to keep Canadians safe, it's important to remember that everyone has a role to play to increase preparedness for an emergency in their community.
Simple ideas of how an individual or family can participate include:
Make an emergency kit (you'll likely have many of the items already in your home)
Create a family emergency plan

Give everyone in the family a responsibility and then role play

Visit your emergency meeting place

Practice calling your emergency contacts to help children remember the name and number of those they are calling

If you have an emergency plan, practice it

Show your family members where your emergency supplies are and teach them how to use them if necessary

Review your insurance and make sure it's up to date and adequate

Put money aside to help build your emergency fund

Watch a video about increasing preparedness or about the different hazards in your area

If your community has an early warning system sign up to receive notifications

Become informed about the hazards in your area
If you live in Alberta, participate in the #BePrepared challenge

Have a conversation about emergency preparedness with a family member, friend, neighbour or colleague

Get to know your neighbours-this can reduce stress and create community resilience
Learn how to use technology during an emergency
Participate in the Government of Canada's tag social media challenge by posting your preparedness tips in a video or photo, tag 3 people and invite them to share as well
Enter to win an Emergency Kit by using the hashtag #ReadyforAnything and #EP@Week2022 when you post on Social media how you are helping you and your family become better prepared to cope during an emergency
Remember, becoming prepared is a process. It that takes time. Go here to learn how one family becomes prepared over several months.
A community or business can participate in EPW by:
Create an emergency plan

Test the emergency plan

Work with, encourage and support local media to run daily emergency tips throughout the week

Partner with local resources-how is the school, a church, a local business preparing? Can you help each other?

Host an emergency preparedness fair for your employees or community

Take steps to increase awareness

Create a culture of preparedness

Create an easy process to report safety challenges and violations without fear of being ignored or potential retribution

If you have a notification system, hold a public awareness campaign
Create and share social media posts or infographics

Display posters in public areas

Share a presentation with community members

Create QR posters that can share tips, short videos, etc with your community
Create a community preparedness calendar

Hold weekly preparedness polls throughout the month of May
Information for a community or organization to help promote EPW can be found here. This site offers a variety of things to help you participate. This includes downloadable graphics, videos, email messages, a quiz, a game, and more. They also show you ways to use social media to promote EPW.
Notification Systems keep you informed
A notification system can be an effective way to make your community aware of an emergency and what you need them to do. Alert Ready is the national system and does not require you to sign up. To receive alerts from Alert Ready you need a compatible device, be listening to your radio or have your television on when one is sent out.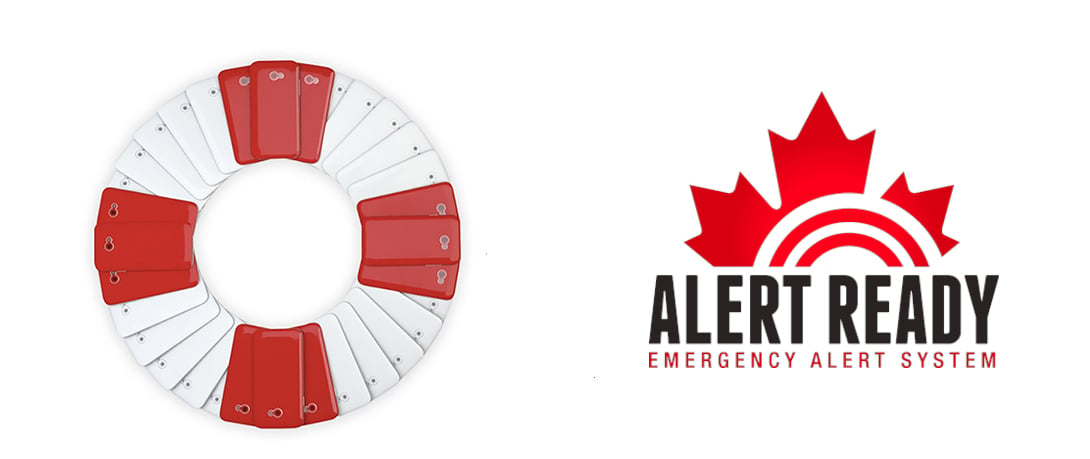 Alertable is used by municipalities and businesses across Canada. It can help you keep your community safe and informed. Messages can be received in a variety of ways including text, phone call, email, social media, website, Slack, Messenger, Microsoft Teams, home smart speakers and more. Even if your community is not using Alertable, notifications from Alert Ready and Environment and Climate Change Canada will automatically come through. This makes Alertable a good option if you do not own an Alert Ready compatible device.
Go HERE to watch a video that demonstrates how to sign up for Alertable and what to expect when you receive a critical alert.
Watch a video on how to prepare a Family Emergency Kit HERE
Watch a video on how to create a Family Emergency Plan HERE
To help Canadians prepare for emergencies, emergency preparedness kits and first-aid fanny pack kits are available through the Red Cross HERE
Go HERE for more information on how to help you take care of yourself and your loved ones during an emergency.
Remember, any effort you make to better prepare is better than no effort at all. All it takes is a few minutes and some creativity.