Is the Coquihalla Highway Open?
Did you know that the Coquihalla Highway is one of the worst roads in North America to drive in the winter?
---
Did you know that the Coquihalla Highway is one of the worst roads in North America to drive in the winter? It is a freeway located in southern British Columbia, is roughly 200 km long, was completed in 1986 and had 32 fatal crashes between the years 2004 and 2013 (Dangerous Roads). A variety of issues cause the road to close including avalanches, snowfall, flooding and debris.
Winter weather is a huge concern as the sudden snow storms can make driving hazardous.
To prepare for winter driving you can create a winter driving kit.
The CAA has recommended that a winter driving kit include: :
A change of winter clothing in your trunk including gloves, toque and boots;

Working jumper cables;

Bag of sand, kitty litter or gravel;

A candle, waterproof matches and sleeping bag in your vehicle (for warmth);

Have an emergency first aid in your vehicle;

Ice scraper and snowbrush;

Extra windshield washer fluid;

Hard copy of a local map;

Flashlight and extra batteries;

Flares;

A phone charger; and

Keep a small amount of food and water in your vehicle in case you get stranded.
While most of these extras will likely never need to be used, proper preparation is essential to ensuring a safe drive on this road. This area is fairly remote and winter tires or chains are required (not just for this road but many parts of B.C). from October 1 to April 30. Filling your vehicle with gas and charging your phone before you leave are also smart ideas.
Only about 36% of Canadians carry a winter driving kit in their vehicle which means 64% of Canadians are not prepared for what is typically involved with a Canadian winter. "Winter driving kits help make sure an inconvenience doesn't turn into a tragedy" (CAA).
Other things that you can do to help ensure safe winter driving is test your vehicle's battery, use winter tires, regularly check the tire pressure, inspect your wiper blades and replace if needed, use wiper fluid rated for -30C and keep your gas tank at least half full to avoid a gas line freeze (NSC).
AAA (NSC) also offers the following tips for winter driving:
Avoid using cruise control in winter conditions;

Steer in the direction of a skid;

Accelerate/decelerate slowly;

Increase following distance to between 8 and 10 seconds; and

If at all possible don't stop when going uphill.
Did you know that Alertable has a new feature that means you no longer need to guess if the Coquihalla highway, and all other roads in BC, are open? Download the Alertable App to receive all alerts, including BC Road Alerts, to ensure that you stay safe and informed.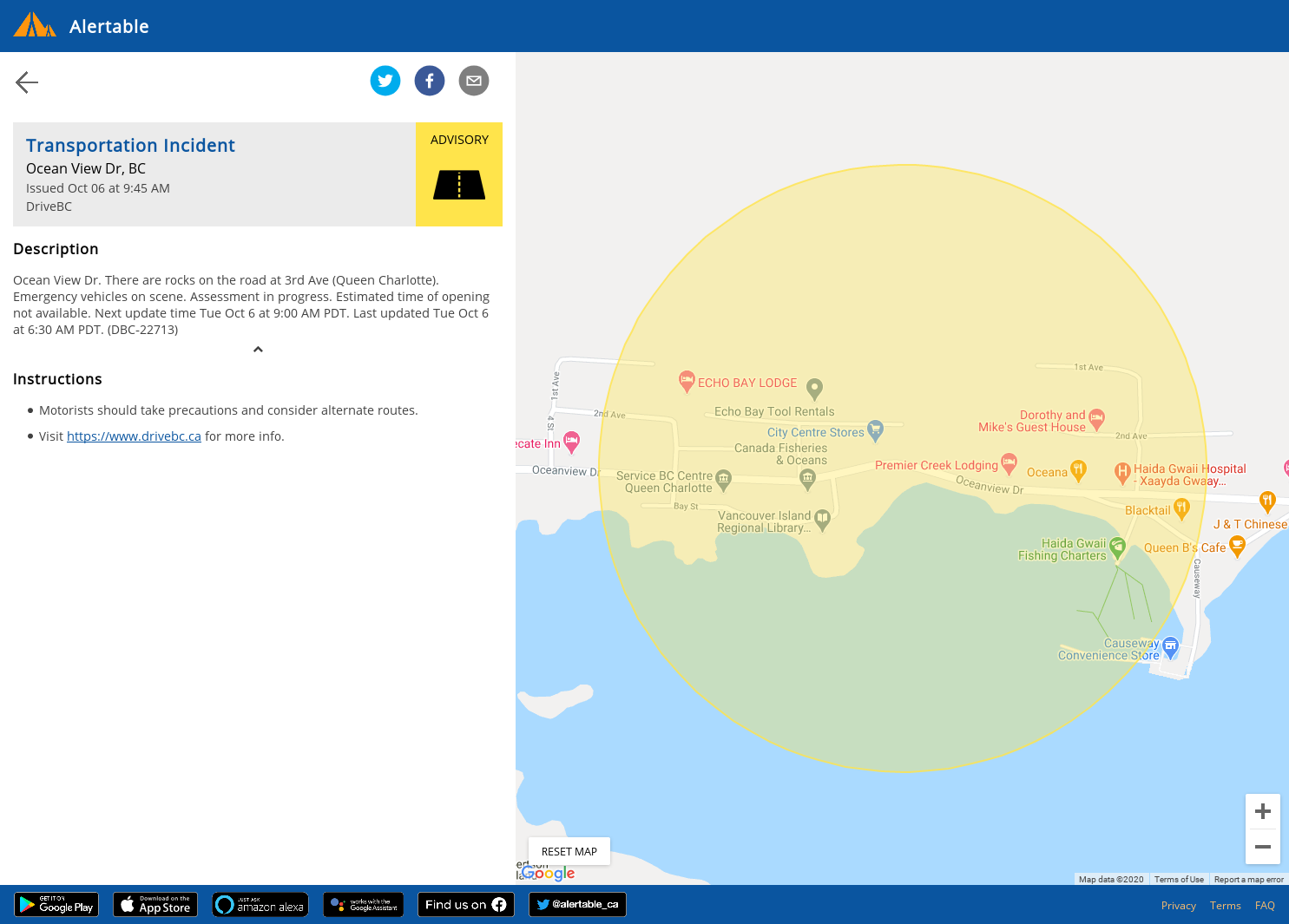 To find out more about how to improve your vehicle's safety click here

Go to DriveBC for current road conditions and events.

What are other tips we could talk about? Leave a comment below and let us know.

Read more on the Disaster Series:


To sign up for Alertable or to learn more visit https://alertable.ca

.