What do you Need for Emergency Preparedness?
The US and Canada locations that do not have some form of hazard or risk are small. We need to create a culture of preparedness to ensure we are ready.
---
There is not a single place in the US or Canada that does not have some form of hazard or risk. We need to create a culture of preparedness to ensure that we are ready when disaster strikes. Because the question is when, not if, it will happen.
Disasters happen whether we expect them or not.
Would you like to be better prepared for potential disasters and emergencies but have no idea where to start? These emergencies could include a variety of things including natural disasters, civil emergencies, terrorism, man-made disasters, power outage, a car accident and many others. As more people realize that they can't always depend on others in a disaster event more and more people are beginning to take preparedness seriously. By choosing to educate yourself, you have already taken the first step.
Emergency preparedness is going to vary depending on where you live, what hazards exist in your area, and what the needs of your family are. For example, you may not pack a winter coat in your 72-hour kit if you live in Florida but you might if you live in Canada. The first thing you need to do is research what hazards are likely to affect your area. For example, some of the main hazards in my area are severe weather, flood, drought, tornadoes, transportation or chemical incident, fire, power outages, and a pandemic. While these are not the only things I should prepare for, they are a great place to start.
Five things you can do to help prepare yourself and your family for potential emergencies are:
Ensure you have supplies to shelter at home for 14 days

Build a 72-hour emergency kit

Build a vehicle emergency kit and have one in each vehicle

Create a family emergency plan

Ensure you have the ability to stay informed and receive emergency alerts
While the supplies to include in your 14 day, 72-hour and vehicle kit will vary, some supplies to consider including are:
Food and water;

Medical supplies (prescription drugs, pain relievers, cold medications, any essential medical equipment with back-up power);

Copies of critical records kept in a sealable bag including birth certificates, social insurance numbers, medical records, insurance (I wouldn't include this in my vehicle kit);

First aid kit;

Sanitation supplies including soap, cleaning supplies, hand sanitizers, portable cleaning wipes, feminine hygiene products, garbage bags, kleenex and toilet paper;

Small amount of cash;

Battery/Solar/Hand crank radio (with extra batteries if needed);

Extra blanket;

Candles and matches;

Change of clothes;

Can opener or multi-tool; and

Small entertainment items such as a deck or cards, pencil and paper, or a book
Remember that your kits need to be personalized to meet the needs of you and your family. What my family needs to survive may be vastly different than what your family needs.
Being prepared can help reduce fear and anxiety during an emergency.
Knowing you have what your family needs to survive can save panic buying and the risk of not being able to access what you need when it matters. For example, the week before Hurricane Irma hit the president of an online emergency preparedness retailer said they received countless phone calls from people desperate to have supplies overnighted to them. According to him, "At that point, it's just too late"
According to a 2015 survey only 39% of families in the US had an emergency plan that they had discussed with their families, even though 80% of Americans live in areas that have been affected by weather-related disasters since 2007 (NY Times).
Identifying multiple exits from your home and neighbourhood

Meeting places to reunite with family or roommates

Designated person to pick up children

Contact persons close-by and out-of-town

Health and insurance information

Places for your pet to stay

Identifying risks in your area

Location of your fire extinguisher, water valve, electrical pencil, gas valve and floor drain
Ensuring you have a way to receive emergency alerts is crucial.
An alert could give you an extra few minutes in an emergency to get to safety and can help you know what actions you need to take to keep yourself and others safe. Depending on where you live there are many options.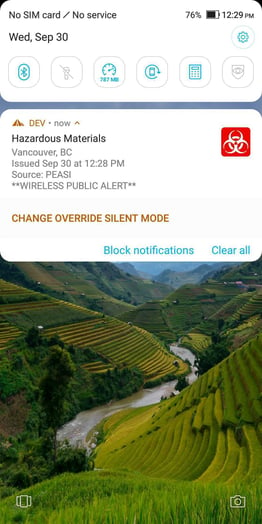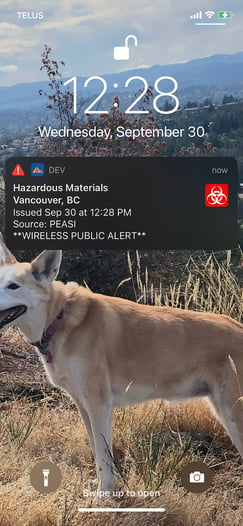 In Alberta you could receive emergency alerts through:
Alert Ready-the national emergency alerting system

Alberta Emergency Alert-the provincial emergency alerting system

A municipal alert system

Alertable-covers emergencies from all across Canada
While each alerting platform has its benefits, it's important to be aware that they have limitations as well. For example, If you want an alert on your cell phone through the Alert Ready system it must have LTE capability. Older cell phones that do not have this capability will not receive alerts through Alert Ready. In the situation where your ringer is turned off, you also won't get an alert from either the Alert Ready or Alberta Emergency Alert systems.
Alertable is a notification system that includes several ways for you to choose to receive alerts.
A downloadable app, smart speakers, social media, text, email and phone are just a few examples of the options available. While the text, email and phone options are only available if your municipality signs up for this service, all other options are available for you to receive alerts for free from across Canada. This includes alerts for severe weather, road closures and more. The app and social media options will ensure that you get alerts whether you are on an LTE network or not and an override silent mode will ensure critical alerts still come through while your ringer is off.
For information on how to build, maintain and store a basic disaster supply kit click here
For more information on how to create your own emergency plan click here
What are other tips we could talk about? Leave a comment below and let us know.
Read more on the Disaster Series:
To sign up for Alertable or to learn more visit https://alertable.ca

.